Professor and Department Chair
Adjunct Professor Speech and Hearing Sciences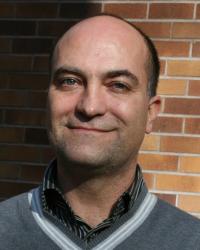 Contact Information
Office Hours:
Winter 2023: Th 1:30-3:00
Biography
PhD 1996, Linguistics, University of California at Los Angeles
BA 1986, French and African Studies, Michigan State University
Prof. Wright is director of the Linguistic Phonetics Laboratory and Chair of the Department of Linguistics. His primary research interest is in understanding sources of systematic variation in the production and perception of language, and how it relates to language universals and language structure (i.e., Language), prosody, and discourse. As part of this research he is interested in describing  the phonetics of endangered and under-described languages. His research contains  translational components in  speech technology  and second language acquisition, as well as clinical applications related to hearing loss and perception under conditions of distortion.
In his teaching he incorporates readings and resources from BIPOC scholars as a means to better reflect the diversity of their respective sub-fields and to amplify the voices of scholars from underrepresented groups. He also draws on examples from underrepresented populations and genders, languages, and stigmatized dialects and sociolects to help make students aware of the vast diversity of human language.